SecureIT Plus - Hands Free PC Security

SecureIT Plus offers the perfect mix of security technology for the best protection available. With SecureIT Plus you no longer have to worry about computer protection. We've removed the guesswork by ensuring SecureIT Plus has everything you need to stay protected. With SecureIT Plus you simply install it and forget it. You'll never receive annoying pop-ups to download, upgrade, or allow/deny an action. It simply works for you in the background without interrupting your computer experience.
Features and Options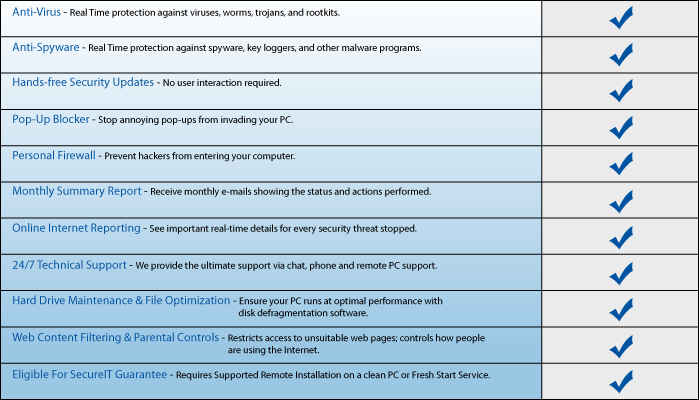 System Requirements

Operating Systems Supported:

All Windows Vista Editions
All Windows XP Editions
Windows 2000 Professional
32 and 64-bit Systems

Resource Requirements:

200 MB free hard-drive space
XP - 256 MB available RAM
Vista - 512 MB available RAM
High Speed Internet
Only $4.95 Per Month!
Want even more protection? Click here to learn more!