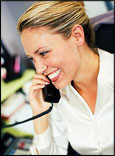 Farmers Mutual Telephone Company offers the following service with an installation charge of $5.00.
Call Waiting $2.00/month

This service alerts a customer, who is already in a telephone conversation, of another incoming call.
Call Forwarding $2.00/month

Allows a customer to forward incoming calls automatically to another number.
Three-Way Calling $1.50/month

Allows a three way conversation with two other parties and enables you to hang up, leaving the other two parties connected. (Long distance charges may apply.)
Speed Calling 8 $1.25/month
Speed Calling 30 $1.75/month

Dial frequently used numbers quickly with the touch of a code.
Caller ID $4.50/month

With Caller ID, you can view on a display device who is calling before answering the phone.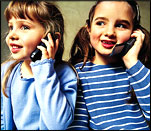 Caller ID Block $0.75/month

This service blocks your name and number from appearing on other caller ID devices.
Toll Restriction $2.00/month

Toll access is denied unless a pin number is used. Ideal for controlling who makes long distance calls at your number.
Coded Ring $2.75/month

Designate a distinctive ring pattern for a teen line or a fax machine.
Voice Mail $2.00/month

Record messages from incoming callers. Retrieve messages from your home phone or other locations.
Residential Local Service - $22.00/month per line*
Business Local Service
- $30.00/month per line*
*FCC monthly charges of $6.50 for single lines and $9.20 for multi-lines also apply, along with 911 monthly charges of 38¢.