If you use the Internet, you've probably already heard about Digital Subscriber Line (DSL) service. Designed to meet the growing demand for high-speed Internet connections, DSL is available to Farmers Mutual Telephone Company customers.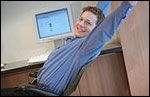 With DSL, you are always connected to the Internet, eliminating dial-up time and frustrating busy signals. Compared to ordinary modem connections, DSL speed enables shorter download times, easier access to graphic-intensive sites and improved performance of streaming audio and video.
DSL service is available for as little as $29.95 per month, plus a one time setup fee of $95.00. Best of all, you'll receive only a single bill for all of your telephone and Internet services from Farmers Mutual Telephone Company.
No Second Line Required
Using the Internet with traditional telephone lines often involves a frustrating choice; either tying up your phone while surfing the net or paying extra for a second line. With DSL from FMTC, however, you only need one line to do everything. DSL subscribers can talk on the phone and use the Internet at the same time, with no loss of voice quality or connection speed.
What Do I Need?
To take advantage of DSL service, you will need an Ethernet-ready computer. Most computers on the market today come with Ethernet built in; check your owner's manual or check your computer for a jack that is larger than your telephone jack. PC owners require Windows XP or later; Macintosh users should be running Mac OS 8 or higher. You may also need a router, which can be purchased at most department stores.